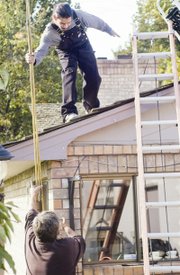 GRANDVIEW - When a friend decided to give up a chimney sweeping business, Merle Lewis and wife Frances decided to buy the business and open up Merle's All Valley Chimney Sweep.
The Grandview-based business has been in the Lewis' hands since the early 90s.
The opportunity came about when the two were looking for a way to supplement slow winter months for their construction business.
Frances Lewis says now (early fall) is the perfect time to get the job done.
The importance of cleaning out chimneys before excessive use to fight off the winter cold is to avoid house fires. Burning with dirty or cluttered chimneys makes the chimney more susceptible to start house fires. In addition, she says most home insurance companies require or prefer the job to be done.
Merle's All Valley Chimney Sweep offers visual inspections, a chimney sweep service, light repair and tips on burning.
Lewis says the company recommends residents clean their chimneys annually.
Inspections usually last 15-30 minutes and the company weighs whether or not the chimney is safe to use and burn in. The cleaning services take nearly an hour and Frances says their company starts from the top down. After the cleaning is over, the crew will inspect to ensure a job well done.
The company travels to the homes of clients all throughout the Lower Yakima Valley, from Prosser to Toppenish.
Cleaning services are offered for residents who own pellet or insert stoves. Gas stoves are not included in the process.
For more information on the services offered at Merle's Chimney Sweep call (509) 840-5060.