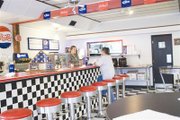 PROSSER - A little piece of nostalgia has been restored in Prosser.
What once was known as Dolly's Café is now Maggie's Place, taking diners back to a date and place of days gone by.
Mel and Beth Wilson have restored and refurbished the café that in more recent years was known as the Blue Goose Restaurant.
Back are the chrome trimmed tables and stools. The floors are black and white checkered and the counter is a vibrant red.
"There are still customers who remember Dolly's," said Mrs. Wilson.
The Wilsons weren't familiar with Dolly's Café, but wanted to provide those wanting to step back in time a great place to eat, which they named after their teenaged daughter.
Mr. Wilson is a chili cook-off winner, has prepared many meals for his fellow community members and has been cooking since serving in both the U.S. Navy and the Army.
"I wasn't an Army cook, but I cooked meals at various destinations around the world at different functions...I cooked for up to 1,250 at one," he said.
Mr. Wilson has become well known by his fellow community members for his Southern comfort food and other creations. As a result he was encouraged by those community members to open up a restaurant.
The old Blue Goose location was vacant and the Wilsons decided to succumb to the wishes of those they knew.
"It took 18 months of hard work," said Mr. Wilson, stating some of the walls were replaced, the flooring completely redone, new kitchen equipment was installed and other decorative touches have been completed.
"We opened up the main area for patrons," said Mr. Wilson, noting the bright and cheery atmosphere of the 50s style dining area.
Customers used to enter the restaurant and were greeted in what was an area not used for dining.
Mrs. Wilson, too, is creative in the kitchen. She is known for baking homemade breads which are served at Maggie's Place.
"I make a variety of fruit breads, fudge, white and sourdough bread," she said.
Mrs. Wilson also likes to create dessert specials like Apple Betty.
She is helping to create a family dining area out of what used to be the banquet room. In that area will be a kids corner complete with walls children can draw on and space for them to eat while parents enjoy a meal at their own table.
The couple, being military veterans, decided to establish a wall to honor veterans of the armed forces, firefighters and police officers as well. That wall is in the dining area of the eatery.
A more formal, but still comfortable, area will feature historic photographs of the Prosser area. That area is set up to provide diners with the feel of the South. It is warm and inviting.
The menu items are just as fabulous. There are the classic burgers and fries, but Southern favorites like chicken fried steak, fried okra, grits, fried green tomatoes and fried pickles are offered.
Soon to be added is a delightful menu item the Wilsons call Bruce's Pasta. The seafood pasta recipe highlights shrimp and asparagus with pasta.
Cottage cheese salad is another favorite of the couple. Cottage cheese lovers will be delighted with the combination of cottage cheese, avocado, tomatoes and green onions. Some who are not fans of cottage cheese have been known to change their minds with a taste of this health-conscious treat.
"We also have a pasty, which is sirloin, potatoes and onions wrapped in a pie shell," said Mrs. Wilson.
Maggie's Place has daily specials for breakfast, lunch and dinner, as well as dessert.
"We just wanted to give everyone a place to enjoy meals that are not commonly found around here...there's no other place that serves Southern comfort food," said Mrs. Wilson.
Maggie's Place is located at 306 So. 7th Street in Prosser. The eatery is open Sunday through Wednesday from 6 a.m. to 2 p.m. and Thursday through Saturday from 6 a.m. to 9 p.m.
Reservations, drop-ins and take-out are all available.