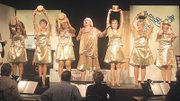 PROSSER - If you like romantic comedies, you could do far worse than going to see "Bells are Ringing" as performed by Over the Hill Theatricals.
The production is being staged with enthusiasm by the group, made up of community members over the age of 45. Sue Ellen Davis is full of wonder as leading lady Ella Peterson, while leading man Brad Smith plays the part of Jeffrey Moss with gusto.
Their duets are great successes, particularly "Hello, Hello There," which also excelled in staging with an innovative way of portraying a subway on stage. "Long Before I Knew You," the closing song of the first act, is a moving piece performed flawlessly.
Davis' performance expresses the joy of the main character, a woman with great faith in humanity and an urge to always help. Her solo "Is It a Crime" both describes her philosophy and serves an excuse for her future actions.
Smith shines as a soloist, with an amazing rendition of "I Met a Girl" full of the pleasure of new love and hope for the future that the song describes.
Other cast members stand out as well. Dan Santos plays Dr. Kitchell with a great sense of whimsy, and his bits of songs seem to be a logical extension of his character. Also of particular note is Doug Hansen as Sandor, whose rendition of "Salzburg" is a show-stopper that brought the audience to tears of laughter.
With only a few hiccups expected of an amateur presentation, the cast is overall excellent. The audience was very into the action, laughing at all the right bits and even gasping here and there at appropriate moments in the play's twisty plot.
The first act of the play does drag a little, being 15 scenes to the second act's seven. While this is mostly a flaw in the play itself, the company might have been able to improve the pacing.
Sound problems dogged the production on opening night. The piano sometimes overpowered the voices of the chorus, most noticeably during "Drop That Name" in the second act. Fortunately, the voices of the main cast were strong enough that the big scenes were not muddled.
Anyone expecting perfection will not get it, but people wanting to see a really fun performance with actors and crew that are truly enjoying themselves will be delighted.
Clocking in at about three hours with a 15 minute intermission, the play is well worth taking the time to see. Performances are tonight (Friday) starting at 7 p.m. and Saturday, Oct. 15, and Sunday, Oct. 16, both at 3 p.m. "Bells are Ringing" is playing at The Princess Theatre in Prosser. Tickets are $10 for adults and $8 for children and seniors.