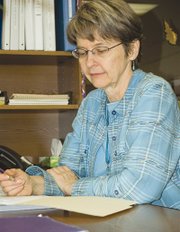 GRANDVIEW - She says the people is what she'll miss the most.
Last month, Sarah Curfman, a Grandview School District administrative secretary, decided it was time to retire.
Curfman began her career with Grandview's school district on June 23, 2000, and Friday, Oct. 14, was her last day.
Curfman, originally from Deer Park, began her professional career at the Campus Crusade headquarters in California where she worked for three years. Before that she received a two-year degree from a Bible college in Selah. In 1975, she married a Navy man, Irvin Curfman, of Toppenish.
Throughout 20 years in the Navy, Curfman and her husband moved all over the world, including California, Hawaii, Guam and Japan. During his service, Curfman worked towards her Bachelor's degree in accounting, which she received from California State University - Hayward.
After his military career, Mr. Curfman was offered a job near his Toppenish roots in Sunnyside.
For the past 11 years, Curfman says her favorite part about her job as administrative secretary is the people.
"I looked forward to greeting them and offering a smile," she said.
Curfman says oftentimes she heard encouraging feedback from a person who she smiled at.
"People would say when I smiled at them it made their day," she said.
Now that she's retired, Curfman says, though they plan to stay living in the area, she and her husband plan to travel.
In addition, the couple enjoys visiting the many friends from the Navy scattered across the world.
All in all it was a good run, and Curfman says her appreciation for her co-workers is something she'll take with her, whether she's close to home or across the world.