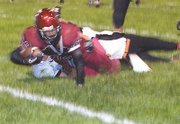 GRANDVIEW - The Grandview Greyhounds couldn't be happier after Friday's homecoming victory against the Ephrata Tigers.
Grandview won its first game of the season 28-21 in a tightly contested match.
Greyhound Jose Castilleja was responsible for three of four touchdowns after returning from the injured list. Teammate Michael Perez ran the ball in for the other TD.
The Grandview defense caused the Tigers to turn the ball over six times, and Greyhound Don Munoz was credited for being prepared and grabbing the ball for an interception.
Grandview Coach Rick Ramos said the defense was instrumental in shutting down the Tiger passing game and stopped Ephrata's leading rusher on the run.
"There were two goal line stands and that was huge," said Ramos, who was thrilled to get the first victory under the Greyhounds' belt.
Grandview (1-5, 1-6) will this week prepare to face off with Wapato, which is hungry for its first win of the season.