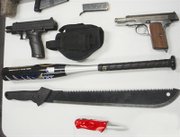 MABTON - As a police officer, a normal quiet evening can turn into a blood pumping life-or-death situation in a moment's notice.
For Mabton Police Sergeant Casimiro (Cas) M. Cedillo, it's the passion of being a public servant that keeps him going.
One quiet summer evening, Cedillo noticed a suspicious vehicle while he was patrolling the town.
Little did he know his instincts would prove his suspicions warranted.
"I noticed they weren't from around here so I made contact," he said of the vehicle.
Cedillo noticed the suspects had turned off their vehicle lights.
"At that point they were trying to become invisible," he said.
Working alone that night, Cedillo with a gut feeling something was off, proceeded with a routine traffic stop. Then he noticed the suspects began to don face masks and gloves, which raised the little hairs on the back of his neck further.
After a thorough investigation of the suspects' vehicle, several weapons and illegal firearms and even tape were uncovered.
"Whatever they were going to do wasn't going to be good," said Cedillo.
One at a time
This scenario is just one of several efforts made by the six-person staff of officers, a sergeant and chief to rid Mabton's streets of illegal firearms. Over the past year, 30 illegal firearms, along with other 'dangerous' weapons were recovered. Perhaps the arsenal was intended for harm, but they've been confiscated and are now off the streets thanks to the Mabton officers.
After a year-and-a-half on the job, police Chief Rick Gutierrez says the crime numbers are drastically lower than the years past and it's all due to the proactive approach officers are using in Mabton.
Cedillo says the kudos go to a good chief of police. He says Gutierrez knows how to get the job done.
All in a day's work
"I think other cities are doing what we are doing," Gutierrez said. "But in our small community that number (30 illegal firearms) is a lot."
Since his reign as chief, Gutierrez has devoted his time to encouraging officers to aggressively patrolling the community: proactive, not reactive.
"They are out there on the streets getting the job done," he added.
In years prior, Mabton residents were used to one or two police officers in the entire department, according to Gutierrez.
"They (criminals) were used to doing anything they wanted; from parking issues to racing up and down the streets," he said.
In addition, Gutierrez says the majority of the weapons recovered happened in the evening hours.
"(Sergeant Cedillo) and the officers have been instrumental in the process," he said.
The team, including a sergeant, four reserve officers and Koda, the department's resident K-9, Gutierrez says is a resilient group of officers with great skill.
"They care about their community and they love their profession," he said.
Safer streets
Gutierrez says the department and its officers have earned a reputation of trust with the residents of Mabton.
"You can see more and more residents out walking around in the evening," Gutierrez said. "Before, they were (apprehensive) of doing that."
In a city council meeting last month, he reported citizens are also becoming increasingly more comfortable with reporting crimes.
"They are beginning to trust us," Cedillo added.
If you see suspicious activity or a crime in progress the City of Mabton Police Department wants you to call it in. Reports can be called into (509) 894-5178.
Photos courtesy of the Mabton Police Department
Pictured here are several examples of illegal firearms, weapons and other items possibly intended for harm that were recovered by Mabton police officers over the last year.