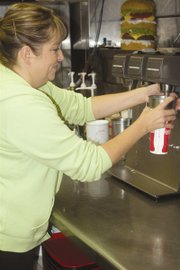 Kristi Jongsma didn't realize when she took the job at Stokes Burger Ranch 30 years ago, that she'd eventually become part owner of the establishment.
As an 'after high school' job, Jongsma began working the counter at the Burger Ranch in Sunnyside in 1981, and has been there ever since.
For nearly five years, she has now been part owner along with original founders Dean and Wanda Stokes and now their son David.
"I don't know why I stayed other than becoming really good friends with (the Stokes family)," she said.
But Jongsma says the daily grind of working fast food isn't as brainless as some stereotypically say.
"(Some people) say flipping hamburgers is a no-brainer job, but it's not," she said.
As part of her daily duties, Jongsma must remember every menu item along with its price and exact ingredient content. In addition, her duties include payroll, paperwork, cleaning, fixing up the place, painting, cooking and anything else that needs to be done.
Throughout the years Jongsma took time off to have her five children. She is now working alongside two of her children at the Burger Ranch and next door to her husband's espresso stand.
Over the years Jongsma says the thing that keeps her coming back is the interesting customers.
"We have had a lot of interesting people come through over the years," she said.
Jongsma says the long-distance travelers visit Stokes Burger Ranch to taste for themselves the hand-dipped fried asparagus. She said what is most impressive however, is one customer in particular who comes into the restaurant, rain or shine, everyday for breakfast at 8 a.m. on the dot.
"It's fun to get to know the regulars too," she added.
But the popular menu items, according to Jongsma, are the hand-dipped and fried items such as fried asparagus that keep the business popular among travelers.
Jongsma says she loves her job and wouldn't have it any other way.
"I like the job; it's what I know," she said.