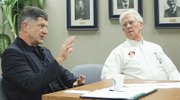 Representatives from Maul, Foster and Alongi updated the Port of Sunnyside Commissioners on the status of planning for the Carnation plant last night (Monday) at the port commissioners meeting.
Consultants Jim Maul and Michael Stringer brought with them Sunnyside resident and former Carnation employee George Johnson to give some historical information about the plant.
Stringer summarized the current situation, including the known contamination of the grounds and the current plans for more sampling.
He said the site currently has two distinct problems that are known. Oil contamination is already being cleaned up by Time Oil. The second contaminant is perchloroethylene (PCE), a chemical often used in dry cleaning.
Because the current investigation is being conducted with an ecology grant, every step of the process is being reviewed and approved by the Department of Ecology.
Other investigations have been conducted with the goal of proving or disproving liability and had a more narrow focus. This investigation has a goal of finding the source of all contamination at the site and preventing future contamination by those sources, as well as cleaning up the current problems.
After sampling has been conducted, a plan for site clean-up will be formulated and the cost of clean-up will be determined.
While the environmental assessment of the site is conducted, the consultants are also determining the worth of the current buildings on the site and whether it will cost more to save them or remove them for new construction.
The consultants are also doing a survey of possible uses for the location. The potential profits from those uses will be compared to the costs of clean-up and building repair or replacement during the final task of the consultants.
At that point, sometime in the spring of next year, the port will decide whether or not to move forward and acquire the Carnation plant.