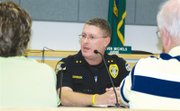 With the city's jail bleeding red ink, the Sunnyside City Council is looking for ways to trim back the 2011-12 budget.
During a workshop last night, Monday, council received budget cut proposals to avoid having to dip into a $1 million contingency fund in 2012.
Proposal would trim three positions
In a move that would save the city nearly $300,000 next year, City Manager Mark Gervasi recommended council consider eliminating three positions from the 2012 budget:
- the public works director post currently held by Jim Bridges
- a building official post held by Mike Storms
- a public works administrative position that is currently vacant
Gervasi indicated the cuts would mean other city employees would have to pick up some slack created by the cost-saving move.
He added the city may need to hire a temporary public works clerk to process some paperwork and contract with an engineer for city projects.
Councilman Mike Farmer pointed out the city is already contracting out to engineer public works projects even with a director in place. Gervasi confirmed he had not seen Bridges' engineering stamp on any projects.
Mayor Jim Restucci told Gervasi that council approval for the position cuts would be likely, but only after first receiving an organizational chart and job descriptions.
Cutting warrant ties with Yakima County?
A cost-saving proposal that met with more resistance was broached by Deputy Police Chief Phil Schenck.
He suggested the city not confirm its misdemeanor warrants against inmates held by Yakima County. He said that move would save the city $80,000 to $100,000 each year.
Schenck floated the idea because Yakima County charges Sunnyside $75 a day to hold prisoners.
Through September, Sunnyside has already spent more than $120,000 this year on jail and inmate medical costs at the county jail - a considerable jump from 2005's total of $10,760.
Schenck is especially concerned how Yakima County assesses Sunnyside a portion of the $75 fee on misdemeanor warrants for inmates also held on more serious felony charges presented by other agencies.
In short, each warrant has to be manually confirmed. If Sunnyside simply doesn't confirm its warrants then Yakima County can't hold an inmate on the city's dime.
Schenck assured council, though, that as of now the city goes after every warrant.
Councilwoman Theresa Hancock was alarmed by the suggestion of waiving off the city's misdemeanor warrants, which could include infractions such as driving while license suspended, third-degree theft, DUI, shoplifting and harassment.
"To me it doesn't sound like it's worth the risk," she said.
Her suggestion, which received support from council, was to pursue the issue legislatively.
Restucci agreed, noting the county's mayors are also concerned about Yakima County's jail billing methods.
Council ended last night's discussion by agreeing with Councilman Don Vlieger to have Schenck present additional options at a later date regarding the warrant issue. That includes additional costs the city's court may incur if warrants are not confirmed.
The discussion about not confirming warrants as a cost-saving move comes during a time when the city has added police staff as part of a public safety focus.
That irony was not lost on Councilman Paul Garcia.
"Something has to be done or we're going to be talking out of both sides of our mouth," Garcia said.