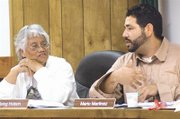 MABTON - Preliminary stages have begun in the City of Mabton to develop the city's business plan and discussing next year's budget.
"The City of Mabton will strive to create a safe and strong community with transparent government, which provides a hub of opportunity for families and businesses to thrive upon," Councilman Mario Martinez said when reading a draft of the council's hopeful vision for the city.
The Mabton City Council nailed down a mission statement and vision draft at last night's (Tuesday) first budget workshop of the season.
Council members worked towards identifying what kind of community they want Mabton to be, before talking numbers. This was in order to have a clear and definitive goal before delving deep into the numbers and budget considerations, according to Martinez.
First on the agenda was a discussion on the five priorities of government which the council discussed at last month's annual council retreat.
The priorities include a livable community, community building and economic development, safe and healthy environments, utilities and infrastructure and sustainable and accountable government.
From the priorities, council members were asked to bring ideas to the meeting of possible wording within the vision and mission statements. From those statements, council members identified specifics in which they would like to see Mabton achieve in the next six years.
Martinez said he would specifically like to see around-the-clock police coverage, which council will consider when discussing the budget for the coming years. Councilwoman Sophia Sotelo says she would like to see a civic center, gazebos and barbecue stands in the parks and more community activities for children and families to enjoy within the community.
The city council also discussed the need for Mabton's own flea and farmers markets, among other key facets to include when developing a thriving community.
Additionally, the council added "courteous" to the list of core values discussed at the retreat which include friendly, teamwork, respect, trust, honesty, safe and profession.
"These (core values) will guide our daily operations," Martinez said.
In addition, the city's attorney, Phil Lamb, discussed the need for a public works director who would ideally be certified to also run the wastewater treatment plant.
Budget considerations will become more detailed in the coming meetings which happen each Tuesday opposite of the city council meetings.
The next budget workshop is scheduled for Tuesday, Nov. 1, from 6 to 8 p.m.