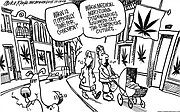 While I'm all for freedom of choice and speech, I'm on the fence about last week's attempted marijuana expo.
Earlier this week, it was reported the Marijuana Expo organized by Bill Smith III was set to take place in Grandview this past weekend. He obtained an operating permit under a "yard sale" classification.
It's very progressive of me to say that I approve of the event and the stand taken, but I'm not so sure I'm as progressive as the next guy.
It's no question how simple it is to obtain a medical or grow card in Washington state, but the fact is, it's still federally illegal.
As a journalist, our First Amendment rights happen to be one of the most important facets of our freedom, to which I hold dearly. And on a personal level, I'm all for fighting to keep and obtain these rights to its fullest degree.
When the marijuana expo organizers applied for a permit, it was applied for under a yard sale. They did, however, specify what products would be sold, but classifying it as a yard sale still doesn't make sense to me.
Though attendees of the event would have had to show their medical recommendation cards in order to purchase any of the drugs, it still doesn't lean to the fact that the avenues to obtain the permit were "slightly" dishonest.
A dictionary definition of a yard sale could read that of used and/or consignment items in which private residents wish to sell to other private area residents. But the fact is actual vendors would be present. This should beg the question, where were the vendors' licenses?
To hold an event like the annual Sunshine Days takes months of preparation and permit requests. So how did this event get as far as it did with just a yard sale permit?
At this point, on a personal level, it's not so much whether or not I agree with the drug and its recreational or medical use. But I do disagree with the dishonest paths taken in which to obtain the permit. It's very telling of the type of event that was going to occur. I say, call a spade a spade.
When I heard the news, I was baffled on why officials weren't stepping in. Luckily officials finally stepped in to shut down the event due to technicalities in the arrangements of the permit.
Of all the groups out there fighting to enjoy the rights to freely participate in certain lifestyles, this group is the only one in our particular region that seemingly tried pulling the wool over the eyes of officials. It was poorly planned and dishonestly executed.
Next time, I suggest following the laws set before us and perhaps get the backing of county officials, which I suspect will be a difficult feat.
Law enforcement officials see the worst of the worst when it comes to substance abuse; having a doctor recommendation doesn't make you any more or less responsible.
Above all, I just wish the feds and states would get on the same page.
Better luck next time, I guess.