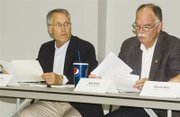 The reviews are in for Sunnyside's militant, get-tough approach to criminal gangs - and they are mixed, to say the least.
Sunnyside Deputy Police Chief Phil Schenck presented the city's "gang elimination plan" to members of the Yakima County Gang Commission yesterday, Tuesday.
The plan, which is costing the cash-strapped city an additional $500,000 each year, focuses on treating gang members as terrorists and taking away all means of support, including housing, transportation and income.
"The key thing that has been missing is a culture change," Schenck said of community attitudes ranging from indifference to support of gang members.
He noted that previous anti-gang efforts have not worked at eliminating the problem, just suppressing gangs for a few years only to see the problem return.
He told the gang commission at yesterday's meeting at the Sunnyside Community Center that this year seven gang members have already been kicked out of rental housing in Sunnyside thanks to the city's crime-free rental housing policy.
Schenck told commission members that it is essential Sunnyside's vision be adopted by neighboring communities so gang members don't just relocate to another city. The idea is to completely drive them out of the county.
That's when the mixed reviews started.
"The military concept is very good if you have $500,000 to put into it. Most of us don't," said Wapato Police Chief Richard Sanchez, a member of the gang commission. Sanchez praised his community's efforts at reducing graffiti and gang member activity by helping them find jobs.
Another commission member, Loren Belton of Toppenish, questioned the "one-size-fits-all approach" to dealing with gangs.
Belton asked Schenck if he has "buy in" from other law enforcement agencies in the county. Schenck admitted there is not buy-in on all elements of Sunnyside's plan, though there is agreement on the need for laws such as crime-free rental housing.
Commission member Harold Delia, a court administrator for Yakima County, also questioned whether Sunnyside might see some "collateral damage" for Hispanic members of the community who are not in gangs.
Schenck countered the city has taken extra steps - including a detailed form - that targets gang behavior and/or support of gang activity, not race.
There was also support for Sunnyside's plan, yesterday. Allen Schmid of Selah praised Schenck's approach of "stop making excuses" for criminal gang behavior.
Yakima County Commissioner Kevin Bouchey chairs the gang commission and he noted the need to respect the approach of each community in dealing with gangs.
Bouchey added that alternative approaches shared yesterday - ranging from jobs to get gang members off the street to $5-a-day monitoring anklets - shows communities can "do things on a shoe-string budget."
He added, "You don't need a six-figure budget."