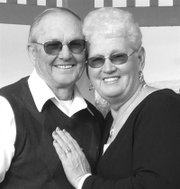 Ken and Carol Tucker of Sunnyside will celebrate their 60th wedding anniversary on Nov. 5, 2011, at an open house hosted by their children.
The open house will be held from 2 to 4 p.m. at the VFW post in Sunnyside.
Ken Tucker and Carol Baldwin were married Nov. 4, 1951 in Grandview and are life-long residents of the Lower Valley area. The Tuckers are retired and enjoy camping, dancing and spending time with family and friends.
The couple have three children, Joann Smith of Sunnyside, Rena Guy of Outlook and Tammy Walkenhauer of Yakima. The Tuckers also have two children preceded in death.
The couple also has 14 grandchildren and 28 great-grandchildren.