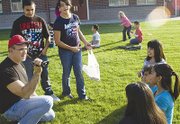 GRANDVIEW - The Good News Club strives to teach students more than just Bible stories.
"We try to teach them good behavior and to have a good attitude," says Antonio Sanchez, the group's facilitator.
Sanchez moved to the Grandview area nearly two years ago from Port Orchard with his wife and four children to pastor Iglesia Del Pueblo in Grandview. He began offering the Good News Club in schools last year.
The Good News Club is an afterschool program designed for children in kindergarten through fifth grades and is sponsored by Child Evangelism Fellowship.
The non-denominational program with Sanchez and his four children, Ryan, 18; Nikki, 16; Jonathan, 13; and Madeline, 11, serves more than 150 students from all religious and non-religious backgrounds each week in the Grandview School District. The program in Grandview also hosts a program for Grandview Middle School students.
Students are currently learning attributes of God, such as "He is Sovereign, Omniscient and Omnipresent."
"We want them to know who God is," Sanchez said.
The next lessons will introduce students to Jesus, who he is and was. But lessons go beyond the church walls to teach students everyday life lessons that coincide with biblical values.
"We challenge the students to think about what they are doing, to say thank you and please, and to be aware of other people's feelings," Sanchez said.
The program for elementary students begins with game time and snacks. Then students delve into a lesson and offer up prayer requests.
Students are challenged each week to carry out actions such as, "thank your parents and teachers for their hard work," and "clean up after yourself without being told," said Sanchez.
The "God Can" is also introduced to students at McClure Elementary.
"What 'can' God do? He 'can' do anything," Sanchez said.
Students place prayer requests into a metal can labeled "God Can."
The Good News Club offers a program for Harriet Thompson Elementary each Monday from 3:25 to 5 p.m., Tuesdays at Smith Elementary from 3:05 to 5 p.m., McClure Elementary on Wednesdays from 3:15 to 5 p.m. and at the Grandview Middle School each Wednesday from 2:30 to 3 p.m.
Sanchez says parents are always invited to join in or watch,
and each school's office has registration forms and information regarding enrollment into the programs.