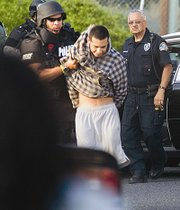 Armed robbery suspect Matthew Ray Garcia was captured yesterday (Wednesday) after Sunnyside police detectives obtained a search warrant on the house they said he fled into after the crime.
Police say Garcia and a 16-year-old accomplice robbed a man at knifepoint near South First Street and Lincoln Avenue. The accomplice was taken into custody immediately by Sunnyside Police, but Garcia allegedly hid in a nearby house. Due to the nature of the alleged crime and Garcia's suspected gang involvement, the warrant was served by Sunnyside and Grandview SWAT teams with assistance from LEAD Task Force.
Garcia will be charged with robbery and residential burglary. The 16-year-old male will be charged with robbery. The victim was not physically harmed.
Sunnyside officers are also investigating the report of a car prowl early this morning in the 1500 block of Beckner Alley. Details on what was taken were unavailable.
Officers took a report yesterday of a burglary attempt in the 200 block of West Edison Avenue, in which a bathroom window was broken and damage was done, but nothing appeared to be taken.
Officers are also investigating two shoplifters detained at Walmart.
Since yesterday Sunnyside police have also checked out three automatic alarms, two reports of graffiti, one loud music call, a reported DUI, two traffic problems, two car accidents, a reported assault, a reported dog attack, a reported drug buy, an injured dog call, a harassment call and a report of a juvenile fight.
Officers also served two arrest warrants, made three traffic stops, provided an agency assist, received two informational calls, recovered drug paraphernalia found in a restroom and conducted a welfare check.