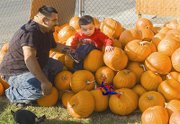 When Reynaldo Manjarrez III of Sunnyside was born, the doctor gave him the OK, but a nurse wasn't so sure.
After checking his heartbeat repeatedly, the nurse got the doctor to check the baby again, and that was when his parents learned their son had hypoplastic left heart syndrome. The syndrome is a congenital heart defect that was considered fatal as recently as 25 years ago.
The good news is the syndrome, in which the left side of the heart is severely underdeveloped, can be effectively treated. The condition means the youngster was born with half a heart, which would have to work twice as hard to function properly.
Fixing the problem requires three stages of reconstructive surgery before the age of four, each stage potentially involving multiple surgeries.
The three-year-old has now had two open heart surgeries this year, and is going to have his third soon.
To raise money for the expenses of the trip to Seattle, the boy's family is selling pumpkins from their home on the corner of South 11th Street and Kearney Avenue.
The pumpkins were donated by teacher Renae Graton and her husband Steve. Graton taught the toddler's uncle, Lorenzo Vargas Jr. and has also taught other family members.
She was with the family when the baby's heart problem was discovered, and even drove some of the family over the mountains to Seattle to be with the child in the hospital.
"We love Lil Rey and we are committed to helping wherever we can help with his family," said Graton.
For the pumpkin patch fundraiser, the Gratons donated more than 2,000 pumpkins.
"My husband and I both, at different times in our lives, went through very difficult situations," said Graton. "We both know what it's like to go through hard times. We both know what it's like to wonder where the next meal is coming from. Because of that we've donated the rest of our lives to helping other people."
The pumpkins are now on sale at the Manjarrez home for $1 each, although extra donations are being accepted.
Grandmother Noelia Vargas reports that the community has already rallied around the sale. "The local daycares bought a bunch for their kids," she said. And some businesses have been helping to promote the sale among their customers.
The pumpkins will be on sale each day from 9 a.m. to 10 p.m. until Halloween.
Visitors may also get to meet with the tyke as he plays with his Spider-man toys and lives as normally as a three-year-old can. His long-term prognosis is unknown, but his family is there to support him.
"They're a dandy bunch, I'm telling you," said Graton of the family.
"They have good hearts."