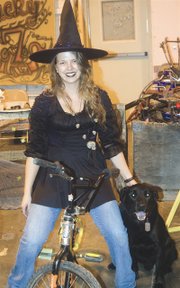 Celeste Goulding has had experiences in Sunnyside that she never dreamed of when she joined AmeriCorps VISTA (Volunteers in Service to America).
Goulding will be headed home tomorrow (Friday) to Oregon and she says she's going to miss Sunnyside.
"I feel like this is one of my homes now," Goulding says. "I never imagined I'd be sad leaving."
She was thrown into the deep end when she arrived in Sunnyside, working as the interim director of the Sunnyside Community Center for six months.
"It was an amazing experience," Goulding said.
She felt supported by a great staff, wonderful community members and children who managed to give her on-the-job training.
She learned valuable experience in management and hiring, and also became part of Sunnyside.
"The community enveloped me," she says, pointing out two families in particular that supported her mission. "I want to thank the Bridges and Carpinos, without them I'm not sure I would have made it."
Goulding received an award from Governor Gregoire in May for her volunteer work at the community center after being nominated by a co-worker.
After working as director of the community center, Goulding moved to work at the Lucky 7 Bike Shop in May.
In addition, she worked with Suzi Carpino of Sunnyside's Promise to set up research, organize conferences, give presentations and work on grants.
"Suzi is my role model," Goulding said of her mentor. She also admires Sunnyside's Promise Executive Director Mark Baysinger for his public speaking abilities. "It was a pleasure to work for him, I couldn't ask for more out of a director."
She said her goal was to provide as much as she could for the youth of Sunnyside. She said that Sunnyside's Promise is delivering, and "deserves five gold stars" for their work. With a tiny staff and shoe-string budget, Sunnyside's Promise delivers big.
One of Goulding's passions is stopping human trafficking. She recently worked on a grant that will help fight gang-related juvenile trafficking in the area. She hopes her efforts with Sunnyside's Promise will continue to have a positive effect on the community long after she has moved on.
"There is a lot more hope here than people give credit," Goulding says.
"Sunnyside doesn't deserve its reputation."
More like this story