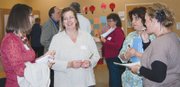 Leadership students at Sunnyside High School put together a forum titled "Together Sunnyside Learns" for community members to meet with students and discuss ways the community can help the Sunnyside School District achieve its goal of 100 percent graduation.
About 50 attendees discussed ways to help students in three key areas after a rousing opening video in the school auditorium.
After dividing into groups, the students led the community members in brainstorming on how businesses and the general public of Sunnyside can help with student achievement in attendance, enrichment and character.
The forum was scheduled to go an hour and a half, but one of the groups ran long due to the quantity of ideas generated.
After discussion, participants were invited to discuss ideas further over cookies and juice.
The students hoped the forum would open lines of communication between the school district's students and the community and help to forge relationships between the community and high school that will have positive results for everyone in town.
Because, as the students pointed out, we are all in this together.
Those students plan to present some of the ideas in a future edition of the Daily Sun News.