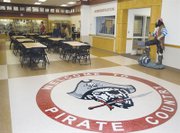 BICKLETON - Pretty much all of the 200 or so residents in the Bickleton School District turned out for a party last night to celebrate the opening of a new $10 million K-12 school building.
Thursday night's open house welcomed the Bickleton community to tours of the new school, as well as a ribbon cutting and cake to mark the occasion.
The turn-out was moving for Superintendent Ric Palmer who fought back tears during opening comments in praise of the community's support for Bickleton students.
The new building incorporates much of the school district's history, as alums gazed up at the walls of the new entry way to see their graduating class photos.
"Everyone's excited," Palmer said of response to the new building moments before the ribbon cutting. "It's a nice environment."