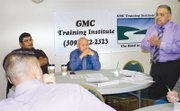 GRANDVIEW - GMC Training Institute has been involved for a number of years in the effort to promote jobs and economic development in Grandview.
To further that effort the institute has partnered with Opportunities Industrialization Center (OIC) of Washington to help train individuals in the pursuit of obtaining forklift certification or a commercial driver's license.
Staff from OIC met yesterday (Thursday) with staff from GMC to discuss how their partnership can help the Grandview EDGE (Enhancing Development of Grandview's Economy) program.
The organizations hope to plug potential graduates of the training center's programs into the EDGE program.
"Part of that process is making the business networking part of the project," said GMC Director of Operations and EDGE Vice Chair Raul Arambul.
He said GMC has a large impact on the economic development of the community and wants OIC to be a contributor because the two entities serve clients looking to improve their lives through sustainable jobs.
The clients referred to GMC by OIC, said Arambul, want to provide for their families by finding employment that is full-time and year-round.
"We have strengths in our combined partnership that are of interest to the development of business," said Arambul.
Israel Delamora of OIC's Pasco office said there is a concern regarding language barriers of clients served by his organization.
GMC's answer to that is providing English as a Second Language classes. The institute, as well as other community organizations, provide ESL for those determined to be successful.
Francisco Salinas, an educator at GMC, said truck drivers are needing to possess a greater capability of speaking in English than in past years. He said laws are changing and it is necessary for those seeking to earn a commercial driver's license to learn English-speaking skills sufficient for the exam and speaking with law enforcement officers.
"If they get pulled over and cannot communicate with the officer, the officer can pull them from the truck and contact the truck owner to have someone else pick it up. The driver's CDL can be suspended," said Salinas.
Learning to speak English is also important for retaining employment, said Arambul.
Retention is a concern for OIC because the organization must report numbers of clients keeping their jobs to the state of Washington, according to Delamora.
He asked if GMC had a method for keeping track of clients after graduation.
GMC's Rogelio Almazon said the institute realizes its level of involvement needs to extend beyond graduation, and it has the tools needed. "But we haven't yet begun tracking whether or not (the graduates) are staying employed."
Arambul said that is a reason the institute's job readiness class is important. "We teach them how to market themselves...if they can present themselves in a professional manner, it helps them to get a job and to retain it...just because you are a truck driver doesn't mean you can't act professionally."
Arambul said obtaining a job is about more than a resume.
Almazan said the institute also believes in conducting an assessment of the students to determine long-term goals and how to help the student meet those goals.
That, he said, helps the students become more marketable, preparing them for the jobs they are best suited for and ensuring they are ready to commit themselves to the environment, even if it means long-haul driving.
Arambul said the two organizations are focused on supporting clients, providing a sense of security in knowing "...they are not doing it alone."