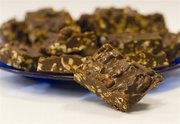 The Popcorn Board wants people to know that popcorn is healthy, tastes great and can be eaten in a variety of ways.
To promote popcorn, the board has created a website, reachable at popcorn.org, with information, recipes and contests.
The website provides slow motion video of popcorn kernels popping so people can see what that "pop!" actually looks like, instead of just hearing it.
Fans of popcorn can join the Kernel of The Month Club for a chance to win free popcorn prizes. A Grandview resident has already won the contest.
A Popcorn Pep Club allows schools to enter for a chance to win $1,000 for the school.
The website also provides lesson plans for teachers and activities for children. An online quiz is available along with downloadable brochures with a variety of facts on popcorn.
There is a discussion board to provide feedback to the community regarding the site, general popcorn information and the recipes on the site.
And the recipes are where this site shines. With more than 125 recipes in eight categories, a person could spend weeks just trying the different variations.
A significant portion of the recipes are fairly simple mix and enjoy variations, for instance, Bacon and Cheese Popcorn requires a person to drizzle a butter mixture over fresh popcorn and toss.
Other recipes require a little more work but allow the popcorn to retain its classic shape, such as Nutty Popcorn Fudge.
Still others require processing the popcorn until ground, like Cheesy Popcorn Bread.
While following directions, it is important to remember that one ounce (two tablespoons) of unpopped popcorn kernels makes approximately one quart (four cups) of popped popcorn.
It's also fairly easy to simply pop up a bag of microwave popcorn and use the proper amount out of the bag. Leftover popcorn shouldn't be a problem, as it's likely to find somebody's mouth quickly enough.
Nutty Popcorn Fudge
Yield: 32 squares
Ingredients
4 cups popped popcorn
1 (18 oz.) package semi-sweet chocolate chips
1 (14 oz.) can sweetened condensed milk
2 tablespoon butter or margarine
1 cup toasted slivered almonds
1 teaspoon vanilla
Directions
1. Line 9" x 13" pan with foil; set aside.
2. Melt chips, condensed milk and butter in large saucepan, stirring until smooth; remove from heat.
3. Stir in popcorn, nuts and vanilla.
4. Spread mixture evenly in prepared pan.
5. Chill 2 hours or until firm.
6. Remove from pan and cut into squares
Bacon and Cheese Popcorn
Yield: 4 quarts
Ingredients
4 quarts popped popcorn
1/3 cup butter or margarine
1/4 teaspoon hickory liquid smoke seasoning
1/3 cup bacon bits or soy 'bacon' bits
1/3 cup grated Parmesan cheese
1 teaspoon seasoned salt or kosher salt
Directions
1. Place popcorn in a large serving bowl.
2. Place butter in a small bowl and melt in microwave, about 20 seconds. Stir liquid smoke into butter.
3. Pour butter mixture over popcorn and toss to distribute evenly.
4. Sprinkle bacon bits, Parmesan cheese and salt over popcorn.
5. Toss and serve immediately.
Preparation time: 5 minutes
Cheesy Popcorn Bread
Yield: 9 squares
Ingredients
4 cups popped popcorn
1 cup yellow corn meal
2 tablespoons sugar
2 teaspoons baking powder
1/2 teaspoon salt
1 egg
1 cup 2% milk
1/4 cup vegetable oil
1 cup shredded jack or pepper jack cheese
1 (4 ounce) can mild, diced green chilies, drained, optional
Directions
1. Preheat oven to 400º F. Spray an 8-inch square baking pan with cooking spray; set aside.
2. Process the popcorn in a blender or food processor until finely ground.
3. Pour ground popcorn into a large bowl and stir in corn meal, sugar, baking powder and salt until blended.
4. Beat egg, milk and vegetable oil together in a small bowl and stir into popcorn mixture just until blended.
5. Scatter cheese and chilies, if desired, over batter and stir just until evenly distributed.
6. Pour batter into prepared pan and bake for 25 minutes or until lightly browned at edges and tester comes out clean.
7. Cut into squares to serve.