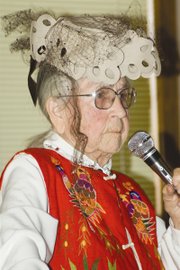 When Margaret Keys, 100, was four years old she says she was a tomboy.
"My sister tried to get me into hats; she wanted me to be a lady," she said.
But when the hat trend had come and gone, Keys finally decided she liked to wear them. Now she's known as the 'hat lady'.
She began her career as the 'hat lady' by telling the history of hats, "but that was dull," she said.
For Keys, there is truly a hat for every occasion. As the entertainer explained each occasion for the nearly 20 hats she brought to this month's Nouvella Club luncheon, the crowd roared with laughter.
"But (all of my hats) aren't this interesting," she said.
When a friend gives you a hat, their memory reigns each time the hat is worn. The first hat Keys presented to the club, yesterday (Thursday), is called "Gus."
The purple-colored hat was given to her by a friend whose brother (Gus) died at a young age. She says she can feel Gus' spirit when she wears the hat and he gives her advice.
"When I don't know what to do; I ask Gus," she added.
Keys displayed her hat collection, added to over her many years of life, and each had an interesting and entertaining story to go along with the equally interesting hats. The list of perfect hats for perfect occasions goes on with Keys' collection of nearly 100 hats.
When Ardith Carratt, a local Nouvella Club member, met Keys she was struck with the many interesting stories Keys had to tell. Carratt wrote a short fiction story about Keys, she presented it to her and, thus, the idea to write a book was born.
"I laughed, she talked," Carratt said. "I learned to keep my digital recorder on hand at all times."
The two are currently in the process of writing a second book "...because Margaret has so many incredible stories."
Keys' hats are versatile.
"If you're going to complain about something, wear a fancy hat," she said.
Then there are hats with attitude, her 'so what' hat, allows Keys to have a bolder attitude with particular people. Hats can even be table decorations.
"If you have a doily, just set your feathered hat on it at the center of the table," she said. "It saves a lot of money."
Hats are what Keys is known for and she suggests everyone wear an outrageous hat just to see the response.
"Get one and see what it does to the people around you," she said.
Hats will go wherever Keys goes, but some serve a particular purpose.
"I keep a hat by the door," she said. "If someone comes by that I don't want to see, I throw the hat on and say, 'Oh, I'm sorry I was just leaving'."