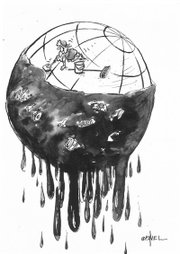 I don't miss a lot about Seattle. I grew up there, true, and will always consider myself a Seattle native no matter where I live. But I don't miss the constantly overcast skies and traffic.
I've come to really love seeing the sun (formerly known as "that bright glowing cloud" when I lived on the wet side). As for traffic, after more than three years in the valley, I still plan my routes so I can avoid making left turns onto busy streets, because it was nearly impossible to do that in Bothell, where I lived before I came here.
I thought I missed the green, but the valley has its own colors and vibrancy. Oh, there aren't as many trees, but here you can see the sky. And it's a broad and lovely sky, unlike the glowering menace in Seattle.
Spring in Sunnyside has Seattle beat for sheer newness of life. Over there, the weeds grow year-round and spring is just more cutting back the growth on slightly less damp days.
But I do miss one thing, and fortunately it's something that is slowly being dealt with here, and maybe eventually we'll have it and I'll be content. I really miss my garbage service.
You just don't know what you have until it's gone. In Bothell we had three large bins with attached lids that we rolled out into our driveway on garbage day.
The first was a very large garbage bin. The City of Sunnyside is considering a contract that would provide 94-gallon bins to every resident on garbage service. Instead of the hodge-podge of mixed containers currently messing up the streets on garbage day here and blowing away in the winds, we'd have standard bins that could keep garbage steady and stay in one place. The bins in Bothell had our address written on them, so if they did wander a little we'd get them back. The hearing is in November, and I have high hopes everyone here in Sunnyside will think the new bins are a great idea.
The second bin we had in Bothell was a very large yard waste bin. This is less a necessity here in the winter, when plants actually take a break, but in the summer it would be nice to have something to toss extra clippings into. As I recall, the schedule on those was every other week. I'd love to see that happen here, but if it's going to happen I understand it is still well down the road.
The third bin was a recycling bin.
Now, I still recycle. It's hard here, with no glass or scrap paper recycling in the valley at all. My husband and I take our glass over the mountains when we visit our family there, and recycle in their bins. Scrap paper isn't worth the effort, and goes in the garbage. At least we know it'll break down more quickly than glass.
Plastic, newspaper, cardboard and cans we take to local collection bins. Usually we end up driving out to the transfer station on the way to Granger to dump them there. Sadly, the bins are often full. But for people who lived in Seattle all their lives and have completely bought into the idea of recycling, it's worth the extra effort.
But we would be delighted to see a stronger recycling effort here. I can only hope that a few years down the road we'll get something, even if it's the rudimentary version where a person has to sort out different kinds of items into a rainbow of bins to set out each garbage day.
So, yeah. I don't miss a lot about Seattle. But I miss the way my garbage was handled there, and I hope we can catch up someday.
More like this story