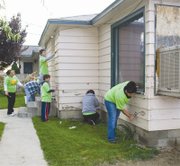 The Loving Sunnyside Initiative is in its third year, giving community members the opportunity to share Christ's love for neighbors through dedication and hard work.
There are many in the community who have homes in need of a little TLC, and that is what inspired Sunnyside Transformation Yakima Valley members to begin the initiative.
Since its beginning, the initiative has been a large success due to the support of the volunteers, churches and businesses in Sunnyside, according to Sunnyside Transformation Yakima Valley Director Roberto Matus.
"Today, we are helping six more residents," he said at this past Saturday's Loving Sunnyside event.
Two homes in the 1400 block of East Gregory Avenue, a home in the 1500 block of East Gregory Avenue, a home in the 900 block of South 16th Street, a home in the 1000 block of South 15th Street and a home in the 900 block of East Lincoln Avenue received improvements compliments of the volunteers who showed up for the event on "Make a Difference Day."
Leroy Werkhoven is a member of Sunnyside Transformation Yakima Valley and he likened the projects to transforming himself (at 60-plus years old) into a Miss Sunnyside Court member during the opening presentation at Sunnyside Christian High School.
Matus said, "The volunteers are putting faith into action."
The Loving Sunnyside Initiative draws hundreds of volunteers willing to show the community true community spirit. There are two events each year, one in the spring and another has in past years been held during the summer.
"This year, we wanted to hold the event in October because of fall clean-up and Make a Difference Day," said Matus.
More than 40 residences in the community have benefitted from the volunteer efforts.
The effort doesn't stop with cleaning up yards, completing minor repairs and the painting of homes. Sunnyside Transformation Yakima Valley members follow-up with contacts between pastors and the residents, letting them know the care of the community reaches beyond the help with the homes.
Matus said business support goes a long way and more than $500 worth of materials per home are donated to help with each project.
"We are helping the residents and their neighborhoods...the result is a happier community," said Matus.