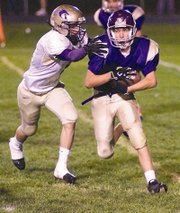 MABTON - Blown coverages on defense and turnovers on offense made for a lopsided first half in favor of the Columbia-Burbank Coyotes Friday night in Mabton.
All told three passing touchdowns, a pick-six, a rushing touchdown and a punt return for a TD put the Vikings (0-7, 0-8) in a deep hole, 43-0, going into the half.
"We didn't play very good Friday night. We had blown coverages in our zone which gave them some easy touchdowns," said Coach Trevor Curtis after the 49-6 loss.
Leading the way for Mabton on offense was Josh Carrasco who was able to pick up 37 yards on the ground. Quarterback Isaiah Martinez was 6-13 for 53 yards and Mabton's leading receiver was Justin Appling who picked up 50 yards for Mabton on the night.
Mabton will host Highland this coming Friday night for their last home game of the season.