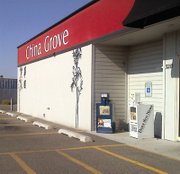 For the last decade Kitty Li has worked seven days a week and nearly 90 hours each week.
"Cooking, cleaning and whatever needed to be done," she said.
As the owner of China Grove in Sunnyside since 2002, Li has put her heart and soul into the business. But she started to toy with the idea of relinquishing the duties at China Grove to a possible investor.
"I've been thinking about (selling) for the last two years," she said.
And two weeks ago, her plans came into fruition as the business sold and temporarily closed.
After purchasing the long-time business nine years ago, she eventually moved the business to its current location at 3210 Picard Place in Sunnyside.
"I designed that building and built it," Li said. "I will miss that too."
But Li says the customers are what she'll miss the most.
"I want to say thanks to the customers, companies I did business with and former employees," she said.
It's been a fun run, but Li decided it was time for a break. Li says she will move out of the area and take a breather but she'll take the good memories of the China Grove with her, wherever she goes.
The restaurant's new owner could not be reached for this story.