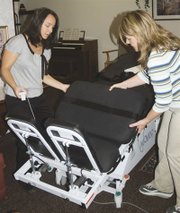 With a large remodel set to open in January 2012, Hillcrest Manor and Rehabilitation Center in Sunnyside is getting ready by acquiring the latest technology to help patients with physical therapy needs.
That includes two pieces of equipment that recently arrived at Hillcrest.
One is a sort of iPad for therapy patients called iN2L, which encourages not only movement, but evaluates cognitive function and memory.
Darlene Wagar is the regional rehabilitation director for Hillcrest, and she says iN2L - which stands for It's Never 2 Late - can help staff monitor a patient's progress in movement and cognitive abilities.
She says it's just the second one in use in this state.
The system works by touch, mouse or keypad. The system has mental exercises such as puzzles and interactive programs that include a virtual stream of water that patients can touch to splash around in.
Wagar says the idea is to encourage patients to reach up as if reaching for something in a cupboard and simulate other activities they'll need to do to return to their homes.
The iN2L machine also features virtual paths that encourage the patient to continue through a therapy session.
Hillcrest's iN2L is connected to the internet and allows families to visit with patients via Skype. Each patient also has their own e-mail account where they can store photos.
A video camera is also included so patients can see their progress through therapy from day one.
The other new equipment Hillcrest recently received is a mobile exercise platform called a MO-VEO. The idea, says Wagar is to help therapy patients with knee or hip issues to gradually put weight on the joint.
It works like a tilt table that can gradually lower to allow therapy sessions to put more and more weight on an ailing leg joint.
Wagar says more technology and equipment advances are in store at Hillcrest as the remodel opening nears. She says the equipment will be available for both residents and patients at Hillcrest, as well as for out-patients with doctor's orders.
"Hospitals are discharging patients earlier and earlier, before they are safe to function at home," says Wagar. "We want to have the right equipment to help them here in the Lower Valley so they can start their therapy earlier and get home sooner."