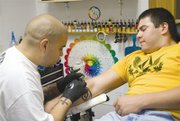 Tattoo artist and owner of Tattoo Times Bobby Rodriguez started pursuing his passions at the young age of 13.
A neighbor took note of his talent as a young artist and, wanting Rodriguez to stay out of trouble, gave him a tattoo kit.
"He was a great neighbor. He passed away, but he really wanted me to do something with my art," Rodriguez, stating what would eventually became a career was sparked by that inspiration of faith in his abilities.
Because he was so young at the time, Rodriguez honed his skills creating artwork on the skin of his friends.
"My parents at times wanted to strangle me," he said.
Rodriguez continued to teach himself with the tattoo kit provided by that long ago neighbor, learning how to create unique designs. The designs are personalized and his skills improved.
As he got older, he continued to create tattoos. He was intent on perfecting his hobby.
Rodriguez, now in his 30s, learned to make small tattoos, old-school designs and other artwork.
He held down "a day job" and in his spare time continued to tattoo his friends in his spare time.
Approximately two years ago, Rodriguez became a licensed tattoo artist. He worked for another tattoo studio in Sunnyside before this past spring opening his own studio.
Since opening his own business Rodriguez has begun completing portrait tattoos like Freddie Kruger and Pinhead.
"Being a tattoo artist requires a lot of concentration and patience," said Rodriguez, stating the most challenging tattoos are small, detailed pieces.
"It's more challenging than drawing and mistakes are permanent," said Rodriguez, stating his clients bodies are his canvas.
Each piece of artwork is tailored to the individual client and it reflects that client's sense of individuality.
"It's a regular challenge, but I love everything about it," said Rodriguez.