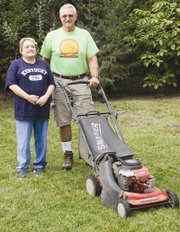 Lower Valley Volunteer Chore Services is a program that serves low-income elders and adults with disabilities, providing transportation, yard work, housework and other services free of charge.
The program couldn't exist without volunteers who provide the work.
Leroy Werkhoven has volunteered for the group since 2008, and recently concentrated on two clients, volunteering his time regularly to help with yard work.
One of his clients recently suffered the loss of her husband, who was on dialysis. Werkhoven helped with mowing the yard and painting the house.
"We started painting the house at 8 a.m. and finished by 1 p.m.," said Werkhoven.
He described how a group of volunteers started with the scraping and priming, and as they finished a section, another group came in behind them to apply the first coat of paint.
Once the first group finished scraping and priming, they applied second coat of paint.
"A group of people working together can finish jobs fast," Werkhoven said.
When the client's lawnmower broke down, Werkhoven used his mechanical know-how to fix it. Recently he organized a group to clean-up the client's yard and removed large collection of items she no longer needed.
The other client he helps is a Vietnam veteran, as is Werkhoven. The client has an amputated leg and is suffering from diabetes.
Lower Valley Volunteer Chore Services volunteer David Charvet built a ramp for the client, and Werkhoven helps to maintain the man's yard.
Lower Valley Volunteer Chore Services is part of Catholic Family and Child Service, located at 320 N. 16th St in Sunnyside. Potential volunteers can call 509-839-8260 to request an application packet from Natalie Curfman.