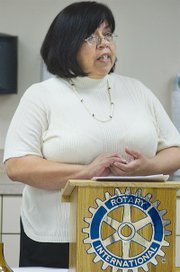 The Sunnyside Library is moving forward with technology as a partner to reach out to the community.
Marcelina Ortega, Sunnyside Library Branch Manager, spoke to Sunnyside Daybreak Rotarians this past Wednesday morning about the history of the library and the new changes that are coming about.
What began in 1911 as the Sunnyside Library has undergone changes over the last 100 years, but the premise stays the same; connecting people and ideas.
"We still have the hard copy books but we have so much more now," she said.
Ortega said the library now carries books in several languages and in audio. Coming soon to the branch will be electronic books with a program called "OverDrive" that patrons can order and download from home.
In addition, the Sunnyside Library, part of Yakima Valley Libraries, offers programs such as story times in English and Spanish for both children and adults and "Yards at the Library."
"(An older group of women) get together and bring with them their crochet projects," she said.
The Sunnyside Library, located at 621 West Grant Avenue is open Mondays through Thursdays from 10 a.m. to 7 p.m.; Fridays and Saturdays from 10 a.m. to 5 p.m. and on Sundays from 1 to 5 p.m. For more information on library programs call (509) 837-3234.