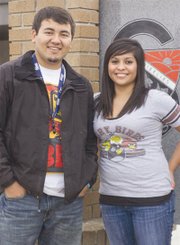 When Mariah Gonzalez volunteered for Sunnyside Transformation Yakima Valley, also known as Transformation Sunnyside, last year an idea sparked for her senior project at Sunnyside High School.
The idea was formed to start project "HOPE." The acronym stands for Helping Out People Everywhere.
Gonzalez says she originally wanted her senior project to involve teaching. But her overwhelming desire to help others prevailed, and project HOPE was born.
The premise for project HOPE is to organize fundraisers and events seasonally throughout the year.
"We wanted to do something for Halloween, but it was too close...we plan to do something for Thanksgiving, Christmas (and other holidays) until we graduate," Gonzalez said.
Getting things together
Recently Gonzalez helped paint homes with the Loving Sunnyside Initiative. There, she met Roberto Matus and Sarahi Bravo of Transformation Sunnyside.
When proposing a senior project, students must have outside mentorship to help them along the way. Gonzalez said last summer provided the right opportunity to ask Matus and Bravo to mentor her.
When beginning the project the SHS student quickly found out a larger project was too much to handle for one person.
"So I asked (Jose Manzo) to help me," she said.
Manzo, also a senior at Sunnyside High School, and Gonzalez have been friends for as long as they can remember.
"It was the perfect fit. We work well together," she said.
Raising HOPE
After the duo was approved to partner for their senior project, the real work began.
"It's hard finding enough people that want to help," Manzo said.
The pair is now planning for the Thanksgiving holiday, finding families in need and donors to supply families with a Thanksgiving meal.
The students approached the Salvation Army for names of families who wish to participate. Project HOPE plans to hold a pre-Thanksgiving dinner for the selected families where Manzo and Gonzalez will present baskets full of all the fixings to complete a holiday meal at home.
The legwork begins with the two planning to stand out in front of area-businesses asking for donations. That's just the beginning. The students are working on a venue and enlisting local businesses with commercial kitchens to help cook the meal that the students will share with the families in need.
After funds are raised, the students will assemble meal baskets for each family.
The buck doesn't stop here 'hopefully'
Manzo and Gonzalez are hopeful that project HOPE will spark an interest in other students long after the two are off to college.
"We want to leave a legacy," Gonzalez said.
But making a mark is just part of it.
"We hope people will care enough to keep it going," Manzo said.
Most of all, the two say their biggest joy comes from helping people along the way, and they wish to share that joy with others.
With the backing of Transformation Sunnyside, all donations are tax deductible.
The deadline for the current fundraiser is Tuesday, Nov. 15. All monetary donations can be written out to Transformation Sunnyside.
For more information call (509) 840-1529.