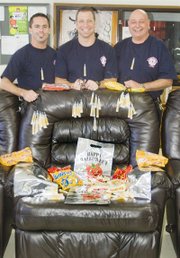 The Sunnyside Fire Department will be handing out goodie bags with glow sticks and candy to children at Sunnyside's Trunk or Treat on Sunday and also at Upland Park on Halloween night.
The Sunday event, hosted by the Sunnyside Police, will be held on Sunday, Oct. 30, from 5 to 7 p.m. at the Law and Justice Center parking lot. The event is a safer alternative to trick or treating door-to-door. Treats are handed out from decorated vehicles, keeping children in a controlled area instead of roaming streets in the dark.
Firefighters will also be handing out the goodie bags on Halloween night (Monday) at Upland Park (1200 Grandview Ave.) starting at 5:30 p.m.
The bags and glow sticks were donated by U.S. Cellular. Candy in the goodie bags was contributed by the firefighters.