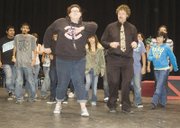 Sunnyside High School students take the stage to perform what is said among thespians to be the most popular classic musical ever performed on Broadway.
The cast and crew of nearly 100 students will set the stage for "Grease" - the school version - beginning Friday, Nov. 4, at 7 p.m.
"It's the number one musical of all time," Director Corey Murphy said.
But the 'school version' cleans up lyrics, behavior and language that would otherwise be inappropriate at SHS.
"People will still recognize (the songs and the story line)," he added.
Two SHS seniors take the lead roles in the classic love story and comedy.
Danny Zuko (Manny Rivera) and Sandy Dumbrowski (Denise Granados) have an exciting summer romance, but when it's back to the real world they discover the two are from very different worlds.
Grease is set in 1959 at a high school which follows working-class teenagers as they maneuver their way through the complexities of love and life.
The musical will take place in the Sunnyside High School auditorium Nov. 4, 5, 10, 11 and 12. All shows begin at 7 p.m. Admission is $6 for adults and $4 for senior citizens and students.