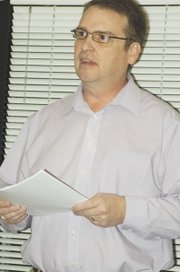 Initiative 1183 could end up costing local entrepreneurs more dollars and cents.
Three local business-people spoke at this morning's (Friday) Sunnyside Republican Club meeting held at Sunny Spot Restaurant on issues regarding I-1183.
In Sunnyside, small retail outlets that currently sell beer and wine have a 75 percent compliance rate when it comes to openly selling alcohol to minors, according to Funny Farm Owner Theresa Hancock.
"I'm certainly not against some privatization, but we need to think about handing over (liquor licenses) to those with a 75 percent compliance rate," she said. "But I have been here since 1988 and have had 100 percent compliance."
Hancock, who has served on the Washington State Liquor Board, read a report provided by the Sunnyside Police Department about three under-age gang affiliated individuals who were caught stealing alcohol. She said the ease for minors to steal liquor would increase due to the shape and size of some liquor bottles.
More issues regarding the initiative would affect real people, with families and bills.
Darren Melton, Market Manager for Columbia Distributing, said the initiative would rid the state liquor store jobs of "working people."
"For the last 78 years it's worked the way it is," he added.
The three speakers agree the initiative might be too favorable for larger companies and may end up pushing out the hometown business owner. In addition, they say the larger media outlets may be in partnership with the companies, taking a stand for the initiative for personal monetary gain
"I can't afford to compete with (the larger companies)," said Randy Tucker, owner of Tucker Cellars.
The three agree, vote no on I-1183.