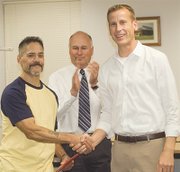 It was a little overdue, but Henry McCormick received his high school diploma last night (Thursday) at the Sunnyside School Board meeting.
McCormick left high school as a sophomore in 1972 to join the Navy and fight in the Vietnam war.
Almost 40 years later, his job was in jeopardy because of new standards at the Sunnyside Housing Authority that required a diploma for all employees.
Rather than lose a valuable employee, the housing authority turned to the school district, which turned to a state law that allows veterans who left high school to fight in World War II, the Korean war or Vietnam war to receive a full diploma if they meet certain standards.
McCormick met the standards and was assisted by Curtis Campbell at the district office in completing the necessary paperwork.
Last night McCormick finally got his diploma to applause from the meeting attendees.