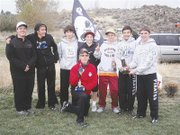 COWICHE - The 1B Bickleton Pirates outraced the other teams at the District meet this past Friday, coming home with the District team championship and heading to the State meet with high hopes.
Three Bickleton boys placed in the top 10 at the meet, with junior Peter Clinton crossing the line in third place with a time of 17:24 while both freshman Brandon Berk and eighth-grader Troy Roberts raced in at 17:45 for seventh and eighth place honors.
"Wow! Pretty much sums up how I felt after I saw our boys run on Friday, and especially after I saw the team scores," said Coach Darrell Lang after the meet.
"We are by far the smallest school of the teams at this meet, but we conquered them all."
The top runner at the meet was senior Zack Speiker of Oroville, who finished with a time of 16:08. Sophomore Liam Daily of Liberty Bell crossed second with a time of 16:25.
Bickleton didn't have any runners in the girls race. Sophomore Sierra Speiker of Oroville was first with a time of 18:40.
In the boys race, the rest of Bickleton's seven-man team managed personal records on the course.
"I just can't say enough about how our boys stepped up and ran their best when it meant the most," said Lang.
Eighth grader Kane Lowe finished 17th with a time of 18:54. Junior Joshua Cummings was 29th with a time of 20:16. Freshman Michael Underwood came in 31st after clocking 20:41. Junior Christian Mittring came in 41st with a personal best of 36:00.
"We go into the State meet trying to improve on our last trip in 2009 (our first year at state as a team in school history) where we were dead last," said Coach Lang.
"This was our first ever team XC District championship and with that we are looking to beat as many of the 15 other State qualifying teams as we can."
Lang pointed out that he has a young team, with all seven returning next year.
"The rest of the state has some real quality teams and placing high will take a huge effort, but hey, who (including myself) thought that this young small team could be District champs?" said Lang.
"Never under-estimate the little team that could."
The Bickleton team will next be running at the State meet in Pasco on Saturday, Nov. 5.