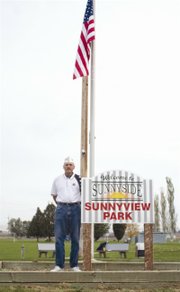 American Legion member Troy Monholland, 62, began to notice the flag service at Sunnyview Park in Sunnyside wasn't always up to par with the state's codes.
He stopped by and asked the maintenance crew about it. Monholland says a man told him with budget cuts and staffing there wasn't always adequate time to care for the flag properly.
But when the city of Sunnyside began talking about taking down the American flag altogether at Sunnyview Park, Monholland decided to step in.
"I drive by the park all the time and it's just a ray of sunshine to see the flag," he said. "It wouldn't be the same park without it."
Monholland wrote Sunnyside's city manager and requested he be the official Sunnyview Park American flag caretaker.
"I said if they provided me a flag, I would make sure the proper regulations were followed," he said.
Taking care of the flag defines Monholland as a concerned citizen but this takes him a step further in his commitment to his country.
He is a veteran once stationed in Vietnam, a 16-year member of the American Legion and a current area-4 vice commander.
The American Legion holds dear to four pillars in which its members ascribe to, including veterans affairs and rehabilitation, national security, Americanism, and children and youth.
Caring for the flag falls under the Americanism pillar and flag protection and education commitment. American Legion membership says the American flag is something they will always fight for, it's a pillar of our country and a shining beacon of hope, even in the hard times.
Monholland said it delights him to see American flags in people's homes and yards.
He suggests an online visit at www.legion.org. He said those interested can click "what we do" to learn proper flag care-taking duties, such as when to lower the flag to half-staff and so on.
Monholland says he is honored to be the flag caretaker and decided to take this opportunity to give back to the community and his country.