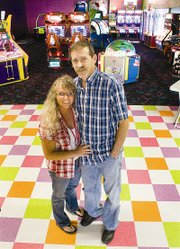 A visit to Sunnyside's newest, and most unique, family fun center might be described by some as a Chuck E. Cheese experience.
One thing's for certain, however, as all who frequent Valley Lanes Bowling & Fun Center will have a beaming smile on their face. Entertainment options abound at the newly renovated amusement center, and they're designed for folks of all ages.
Long-time Sunnyside entrepreneurs Rob and Sue Rice are putting the finishing touches on their newest endeavor - a 3,500-square foot video, gaming and food court that has transformed what was once just a bowling center into a paradise of sorts for families in search of a night out on the town.
The carnival-like, neon-lit, rock music-filled center offers nearly three dozen gaming options. Sports-minded youngsters can choose between a 2-minute NFL football throwing drill and an NBA shooting contest. For the sharpshooter in the family, there's "Target: Terror Gold" and "Terminator Salvation," complete with pistols to nail the bad guys. Those who dream of one day taking on the likes of NASCAR greats Jimmie Johnson, Kevin Harvick or Dale Earnhardt Jr. can buckle up and get behind the wheel of the "Offroad Thunder" or "Fast & Furious Super Cars" video competitions.
Tinier tykes who have happy feet might just want to plug into "Jumpin' Jackpot," a music-enriched experience that challenges the youngsters to keep pace with the tunes they'll hear. The more experienced dancers in the family will be drawn to "Dance/Dance Revolution," the only version of the popular, revamped game being offered in the Pacific Northwest.
"It's the first of its kind in this area," said the Rices' youngest son, Trey, who'll be helping out at the new family fun center in between his studies this fall during his first year of college. "This newest Dance Revolution machine not only has the older games and music, it also features the latest and newest games and music," he explained.
Customers who frequent the family fun center will find that nearly all of the gaming adventures are the most recent, up-scale versions that the video industry has at its disposal.
That includes a fresh cotton-candy making machine, the first of its kind anywhere that guarantees not to leave kids' hands a sticky, sugary mess.
Nearly all of the games families will play at the new amusement center are what the Rice's refer to as redemption devices. Basically, tickets are earned with each gaming adventure. At the end of the fun-filled evening, the tickets can be redeemed at the prize center. The more tickets you have, the larger and more valuable the prize you can take home.
The electronic games do not have slots for coins or tokens. Instead, customers will purchase a fun card from a kiosk. Resembling a credit card, they're simply swiped through a slot on each electronic game to get the action started.
The Rice's hope the expansion at their bowling center will draw in plenty of walk-in customers, but the driving force behind their commitment to establish a family fun center is to offer an experience that is ideal for birthday party celebrations and the likes.
"We'll be set up to accommodate all types of celebrations," said Mr. Rice. "It's obviously geared for families, but we've targeted the 4 to 12-year-old age group.
"I think, though," he chuckled, "that a lot of people, teenagers and adults included, are going to find they fall into that age bracket.
"Really, most of the games are pretty entertaining for people of all ages," he said.
The newly expanded kitchen at Valley Lanes Bowling & Fun Center will still offer the regular luncheon and dinner fare it has in the past. New, however, is a pair of pizza ovens, brought in specifically to accommodate larger crowds that gather for children's parties.
Those interested in booking parties, said Mrs. Rice, can call in their reservations (839-6103). The new center, she added, has a separate eating/dining area for the children's celebrations.
The newly constructed fun center does come with one drawback. Instead of expanding onto the existing building, the Rice's chose to build over the top of the existing bowling lanes. Six lanes, to be exact, which has transformed the bowling center from a 16-lane alley into a 10-lane facility.
The good news for league bowlers, said Mr. Rice, is that with a few minor adjustments, everyone will still have their spot for the weekly competitions.
"The one down side, is that we'll have six fewer lanes for the open, recreational-type bowlers who often come in on Friday and Saturday nights," he said. "It might mean a bit longer waits to get on a lane for these bowlers.
"But, with our new fun center, they'll have something to keep them entertained until a lane opens up.
"We think in the long run, there will be more entertainment options here for more people. At least that's our hope," he said.
The expansion at the Sunnyside business, from an economic standpoint, benefits the community. From needing a staff of four to operate the old bowling center, Manager Derek Colley will now have a total workforce of eight employees.
The Rice's say the construction and expansion over the summer months progressed rapidly, thanks in large part to the cooperative efforts of city staff.
"Quite honestly, the city was a pleasure to work with on this project," said Mr. Rice. "Everyone we dealt with at the city level was extremely helpful and accommodating.
"The start of our year here at the bowling center, in terms of league play, has always been the day after Labor Day. Everything seems to be on track for that happening again this year, thanks to the efforts of everyone involved with this project.
"Sue and I are just trying to create an opportunity, an outlet, a place for families to go to, where they can enjoy some quality time together. Hopefully, they'll find it here," he said.