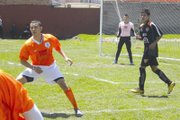 A Mexican soccer team's scouting trip to Sunnyside paid dividends all the way around, as 22 youths from the valley were invited to play in Mexico City recently.
Martha Vargas of Sunnyside is with a local group called the Manchester Youth Soccer Club that focuses on giving kids of all ages a chance to play soccer.
She says the club arranged for two professional soccer players from Mexico to visit Sunnyside for a scouting trip in July.
Vargas said 22 of the players who tried out were selected to go to Mexico City and visit the professional squad and try their hand against youth teams there. The group was in Mexico City for two weeks last month.
Of the 22 youths, 15 were in high school and formed a team that competed against clubs in their age group in Mexico City.
The rest were younger children from the valley who formed a seven-man squad and competed against players from their age level in Mexico City.
"They did really well," Vargas said of the valley players' efforts in Mexico City.
Eight of the 22 players were from Sunnyside. They are Christian Chavez, 14; Cristian Vargas, 17; Edgar Vargas, 18; Omar Vergara, 18; Antonio Magana, 11; Mario Negrete, 11; Noe Meza, 13; and Jesus Marquez, 15.
Four of the Sunnyside players, Chavez, Cristian Vargas, Edgar Vargas and Vergara were invited to stay in Mexico City and play with the professional team's reserve squad.
Martha Vargas said the boys had to get back to Sunnyside for school and couldn't extend the stay.
Even so, she notes the 22 valley youths left such an impression that they've been invited to return to Mexico City during winter break to visit with the professional soccer team.
photo courtesy Martha Vargas
Omar Vergara (at left) and keeper Cristian Vargas, both of Sunnyside, are pictured in action against a youth team in Mexico City. The two teens were part of a group of 22 youth soccer players from the valley who were selected to visit a professional soccer club in Mexico City last month. Due to the start of the school year, both boys had to turn down invitations to extend their stay and play with the pro club's reserve squad.