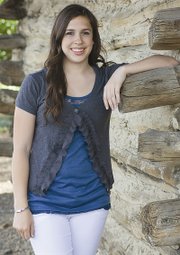 The desire to work on a community service project that benefits Sunnyside has driven Tara Van Corbach to seek the 2011-12 Miss Sunnyside title.
The daughter of Darla and James Van Corbach, she has been instilled with the importance of community service.
Van Corbach's mother began teaching the Sunnyside High School junior and her older sister, Heather, the importance of serving others while the girls were very young.
"My mother served as a Girl Scouts troop leader," said the teen.
While in Girl Scouts, her troop painted over graffiti, picked up trash along the highways and visited elders at assisted living centers.
Van Corbach said her goal is to work with Sunnyside's Promise, if selected to serve as Miss Sunnyside. She wants to promote drug and alcohol awareness as her community service project.
Van Corbach believes it is important to help youngsters learn the dangers of drug and alcohol abuse. As a result, she has spoken with Sunnyside's Promise Director Mark Baysinger about developing a video for at-risk youth.
She said the video would star youngsters, sharing what life inside a home might be like if parents are drug or alcohol addicts.
The video, said Van Corbach, would be shown to youngsters in fourth through seventh grade, helping them understand the dangers of substance abuse.
"I'm really excited about it," said Van Corbach.
She is a busy teen, involved in track, band, Key Club and Science Club. She is also a member of the Sunnyside Sharks swim team and Sunnyside Grizzly Dance Team.
Van Corbach is a leadership class student, Link Crew member and is on the ASB executive council at SHS.
"I think that's it," she laughed.
Van Corbach plans to attend the University of Washington to pursue one of three careers. They include aerospace, aeronautical engineering or architecture.
Architecture has appealed to Van Corbach since she was a scout. Her Girl Scouts troop was provided a presentation on the career to earn an architecture badge. Because she enjoys math, lines and the way in which things are designed, the presentation struck a chord with the teen.
"There's a lot of math involved and I really like math," she said.
Aerospace and aeronautical engineering are also careers that require a lot of math skills. Aeronautical engineering melds the fascination with architecture with aerospace, said Van Corbach.
She considers herself strange because she first pondered the two careers while riding on an airplane.
"I contemplate such things in random situations," said Van Corbach.
For her talent in the Miss Sunnyside Pageant, she plans to play "Nocturne" by Martha Mier on the piano.
"I have played the piano since first grade, I like music and enjoy perfecting a piece," said Van Corbach.
She said performing on the piano gives her a sense of becoming a part of the music.
For the Sept. 17 pageant her sponsors are Martin & Rodriguez Dental Center, Ben Sartin State Farm Insurance, Dr. Donald Orminski and Sunnyside Physical and Sports Therapy.