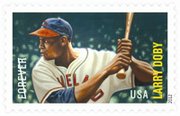 The U.S. Postal Service recently released the image of the second of four stamps in its series of "Major League Baseball All-Stars" to be issued in 2012.
Following on the heels of Yankee great Joe Dimaggio earlier this summer, USPS announced Larry Doby will be the second baseball all-star to get the stamp treatment.
Doby (1923-2003) was the first African American to play on an American League baseball team, joining the Cleveland Indians on July 5, 1947. Doby arrived in the league just 11 weeks after Jackie Robinson broke the color barrier in the National League with the Brooklyn Dodgers.
A seven-time all-star, Doby excelled not only at the plate but in centerfield, where he set an outfielder record of 164 consecutive errorless games.