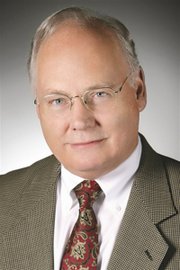 Longtime Sunnyside doctor Lloyd Butler was honored by the Yakima Valley Community College Alumni Association with the Distinguished Alumnus award during this year's commencement.
Butler practiced osteopathic family medicine for 32 years in Sunnyside before retiring in 2004. During this time he also served twice as Chief of Staff at Sunnyside Community Hospital as well as a member of its board of directors. He is widely known for delivering many children in Sunnyside and the surrounding areas.
Born in Auburn, Butler was raised in the Yakima Valley and graduated from Yakima Valley Community College in 1965.
Butler is currently the President of the Pacific Northwest University of Health Sciences and is working to provide more opportunities for medical training in the Yakima Valley.
Butler is a founding member of the Sunnyside Community Hospital Foundation, and served as president of the Osteopathic Foundation of Central Washington. In addition he has mentored hundreds of osteopathic medical students throughout his career.
Butler is also a prominent developer of several retirement communities and numerous commercial properties in Yakima and across the state. He is also a member of the Yakima Rotary Club.
Butler and his wife, Gloria, are strong supporters of the community, and have made philanthropic gifts to Sunnyside Community Hospital and other community and professional organizations.
"My wife, Gloria, and I have come to realize that helping found a medical university in our valley is the most important thing we will do in our lifetime," says Dr. Butler.