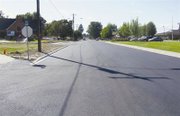 GRANGER - The City of Granger is celebrating the completion of its Bailey Avenue improvement project with a ribbon cutting ceremony at noon on Tuesday, Sept. 6.
The ceremony will take place on the lawn at the Granger Public Library, 505 Bailey Avenue.
The improvements include two travel lanes, two parking lanes, curbs and gutters. It also includes a new sidewalk on one side of the road from Second Avenue to Sunnyside Avenue.
The Bailey Avenue improvement project was completed at a cost of $768,250, which was 90 percent funded by the State of Washington Transportation Improvement Board. The remaining 10 percent was funded by the City of Granger.
Jack Burnes, Granger public works director, was the project administrator.
Spink Engineering, LLC of Richland oversaw the project and the construction was performed by P.O.W. Contracting, Inc. of Pasco.
The Sept. 6 ceremony is open to the public.