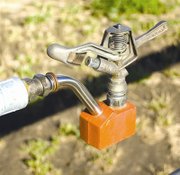 The future appears to be in plastics for Lower Valley irrigators looking to stem the tide of sprinkler head theft.
It's a dilemma each summer, as irrigators water their crops only to find those vital sprinkler heads stolen and sold to metal recycling companies.
Gary Holwegner is the sprayfield manager for the Port of Sunnyside and he figures the agency lost more than 300 sprinkler heads this summer over the course of three thefts.
"They're pretty systemic," Holwegner says. "They work the fields from south to north. It's kind of ironic because they're working closer and closer to the police chief's home."
The port has tried various techniques to thwart thieves, including painting the sprinkler heads orange. "They just put them in a fire pit and burn off the orange," Holwegner says.
Like farmers in the area, the port's sprinkler heads cover a wide area - 415 acres for the Port of Sunnyside.
That means it's not only difficult to keep watch over everything, but especially so when metal thieves do their work late at night and often on weekends.
He hasn't looked into costs yet, but one idea Holwegner came up with is applying a GPS tracking device to the sprinkler heads. He admits that could be a spendy proposition.
As far as checking with salvage companies, Holwegner says that can be tricky because there are companies all over the Northwest thieves can try to sell to. Finding the company who bought your sprinkler heads can be like the proverbial needle in the haystack.
So what is an irrigator or sprayer to do?
That's where plastics come into play. Holwegner says the best bet is to do away with metal sprinkler heads all together and go to plastic.
"We don't buy brass anymore," he says, estimating that about 80 percent of the port's 5,000 sprinkler heads are now plastic.
The strategy is working.
"They skip the plastic ones and go for the metal," Holwegner said.
That future in plastics is spreading, as Holwegner has heard from four farmers this summer, all victims of sprinkler head theft.
"They're asking me where I got my plastic sprinkler heads," he said.