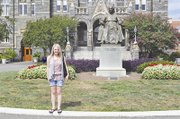 Just last month Sunnyside's Jenny Hall, who is a sophomore at Zillah High School, traveled to Washington, D.C.
It wasn't the typical leadership conference or vacation getaway, but an opportunity to dig down deep, immersing Hall in the field of medicine.
The teen was one of 50 invited to attend the Lead America Medical Program at Georgetown University. Only 20 actually attended, and Hall was among them.
She was a member of an eight-person team that swept the challenges presented them while trying to work under pressure.
"We completed six projects, had to give presentations, attended lectures and had a lot of homework," said Hall.
She said the days were demanding of the teens attending the program. Each day began at 6 a.m. and the students were immersed in all things medical until 10:30 p.m. She stayed up until the early morning hours throughout the week-long program completing her homework.
Two of the projects her team had to work on involved developing treatment plans to stave off an epidemic.
"We had to present the problem, ask questions of the medical staff, develop a treatment plan and present that plan to determine if it would stop the epidemiology case," said Hall.
She said each plan was presented on stage before an audience of her peers and the medical staff working with students in the Lead America Medical Program.
"My group won all the challenges involving projects and we won overall high points," said Hall.
As a result, she now has her very own stethoscope and is considered a program alum. As an alum she can earn points toward college scholarships for any institute of higher education and a return visit to the Lead America Medical Program.
Each student was judged by medical staff at the esteemed medical university throughout the program and she earned awards for being most competitive, best public speaker and the hardest worker.
Some of the highlights for Hall included the opportunity to watch a cornea repair, two autopsies (one live and one recorded) and emergency room surgeries.
"The gross anatomy lab was really cool," said Hall.
She said every part of the program fascinated her and she was excited in the anatomy lab. A medical professional in the lab, she said, complimented her. He told her she is one of a rare few people who get excited about procedures involving the anatomy.
"Most of my team members were grossed out like typical teens are," said Hall.
She said the patient simulator was another highlight of the experience.
Hall said the simulator is controlled by doctors hidden behind one-way mirrors. She didn't know it at the time and while working on the simulator was subjected to a very high pressure situation.
"Because I had been winning all my challenges, they crashed the simulator five times," she recalled.
The simulator is programmed to emulate a real person. It even has real blood pumping through its vascular system.
On the simulator, Hall had to insert an IV, perform CPR and defibrillate the patient each of the times he flat lined. She also had to give the patient stitches.
"I had 30 minutes to think on my feet," said Hall, stating she passed the test, winning the challenge.
Another of the many challenges she conquered and won involved memorizing a patient's entire medical history overnight. She had to ask an actor portraying the patient a minimum of 100 questions associated with that history the next day.
There were other similar challenges, like developing a patient plan for someone living a high-risk lifestyle of overeating, smoking and other unhealthy habits.
Hall had to complete a full physical exam on a doctor portraying a patient. That was an on-stage challenge.
Her favorite lecture of the week was presented by James Giordano, Ph.D. He talked about bioethics and technology in the medical field.
Before traveling to Georgetown, Hall thought she might either pursue a career as a surgeon or an ER doctor. After, she said, "I want to be a doctor in the ER and trauma."
Participating in the program, she earned college credits, adding to those she has earned participating in other medical programs for high school students and taking college courses online while keeping up with her high school studies.
"I just want to take advantage of every opportunity possible to be a well-rounded student for my future college career," said Hall.