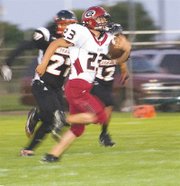 A basketball game on grass...that's how Sunnyside Coach Mark Marro describes what he expects to see this coming Friday when his Grizzlies take on 4A Davis on the Pirates' home field.
And why not? Marro's 3A Grizzlies put up 51 points against the visiting 2A Grandview football team this last Friday in both clubs' season opener, while Coach Rick Clark's Pirates the same night exploded for 54 points at 3A Eastmont, the second most in Davis school history.
The expected shootout this coming Friday, in all likelihood, will be decided by which team can make the most defensive stops. The key for Marro's Grizzlies, he said, will be not giving up the big play.
"Our goal is to make Davis drive the field," said Marro. "We can't allow them that long pass that results in a touchdown."
If that's the case, boy do the Grizzlies have their work cut out for them. Last Friday, Davis High School had two TD passes that went for 84 and 55 yards. Pirates QB Deion Wright also had a touchdown toss of 20 yards, with wideout Cooper Kupp throwing another scoring strike of 9 yards. Kupp, despite being a receiver, also delivered big for Davis on the Wildcats' home field by breaking off scoring runs of 78 and 16 yards.
Obviously, the Grizzlies who line up against the Pirates' offensive unit have a big job ahead of them this coming Friday, but probably none more so than defensive backs Joseph Contreras, Steven Monterrey, Trey Serl and Cedro Ramirez. Their task will be to keep the Pirates' receivers - Kupp, David Trimble and Chris Chapman - in front of them.
"If the Davis receivers get behind our DB's, get open for that long pass, we'll be in trouble," said Marro.
He's hopeful, however, that Contreras, Monterrey, Serl and Ramirez will show the same type of speed, agility and prowess that they did in limiting Grandview quarterback Derek Swearingen to 4-of-17 passing last Friday.
"Actually, our starting four DB's only allowed two catches last Friday," said Marro. "Two of Grandview's receptions came with our back-ups on the field."
Swearingen also got picked twice in Friday's season opener, once by Ramon Hernandez, who returned the interception 30 yards, and once by Miguel Ramos, who advanced the ball five yards after making the snag.
In assessing the rest of his team's defensive play last Friday, Marro said other than Grandview's first drive of the game, his Grizzlies stiffened and kept the Greyhounds at bay.
"We played well after Grandview's opening drive," Marro said. The one mistake his Grizzlies made on the Greyhounds' opening possession was giving up a 75-yard run to Jose Castilleja, which advanced the ball to the Sunnyside 8-yard line.
"The mistake," said Marro, "is that we over-pursued," explaining not enough defenders "stayed home" and basically, over-committed.
Grandview, on the next three plays, plowed ahead to the Sunnyside 2-yard line. First year Coach Rick Ramos, choosing not to take the 3-point field goal, went for it on 4th-and-goal, and the gamble paid off for the 'Hounds when Michael Perez dove into the end zone from two yards out.
That squared the non-league contest at 6-6, as both teams missed on their extra point conversions.
Sunnyside, too, put up a TD on its first possession of the game, the capper coming on a 1-yard plunge by first year QB Eduardo Salmeron.
The Grizzlies added another score midway through the second quarter when Hernandez finished off a drive with a 6-yard scamper to pay dirt. The two-point conversion attempt failed, however, leaving Sunnyside clinging to a 12-6 lead.
That would be all the scoring in the opening half, due chiefly said Marro, "...because we didn't really play all that well in the first half." He credits the lack of offensive fluidity to getting the kinks worked out, "...especially with it being our first game of the season."
The game quickly turned Sunnyside's way after intermission, when the Greyhounds fumbled the ball on the opening drive of the second half and Monterrey scooped up the loose pigskin and raced 30 yards for a score.
"We kind of saw that as the beginning of the end," said Marro.
After stopping Grandview on its next possession, the Grizzlies tacked on another third quarter TD when Salmeron broke loose and went untouched for a 36-yard scramble. The extra-point kick by Jacob Galindo upped Sunnyside's lead to 30-6.
Salmeron, who proved to be Sunnyside's second leading rusher in the game with 77 yards, tossed his one and only touchdown pass early on in the final quarter. The scoring strike went to Monterrey and covered 42 yards.
Marro said his first-year QB did a good job of pulling it down and running the ball when Grandview shut off all the passing lanes.
"Eduardo is capable of doing that. He's a very good runner.
"Last Friday he was a little dinged up, so we didn't really have anything designed for him in terms of running the ball. Even so, he rushed for 77 yards. Down the road, there will definitely be some plays designed for him to run," explained Marro.
Salmeron, through the air, threw for 165 yards on 7-of-11 passing with no picks. Monterrey and Contreras were his primary targets, each pulling in three tosses for 75 and 72 yards, respectively.
Hernandez, who led all ground gainers with a 100-yard effort on just seven totes, snapped off a 50-yarder on the Grizzlies' very next possession to increase the home team's lead to 44-6.
Sunnyside's JV unit took over from there. Swearingen made the most of it, hooking up with Don Munoz on a 60-yard heave that drew the 'Hounds to within 44-14.
The Grizzlies added an insurance score to account for the final 51-14 outcome, on a 9-yard run by Marcus Sanchez.
Marro, whose team knocked off Grandview 47-6 in the 2010 season opener, gives a lot of credit to the Greyhounds for their play last Friday.
"Grandview is much improved from last year, especially the play from its defensive ends," he said. "It looked like to me their new head coach has them on the right track."
Grandview's new coach, Ramos, said his team played well, "...but a lot of mistakes were made in the last two quarters that led to Sunnyside scoring." He said his team was hoping for a better outcome than the 51-14 score, but now understands his club still has a lot of work to do to be ready for the rest of their opponents.
RUSHING - (Grandview) Michael Perez 12-29, Anthony Perez 6-11, Derek Swearingen 2-0, Adam Perez 5-7, Jose Castilleja 17-99, Salvador Escobedo 4-30; (Sunnyside) Jacob Ross 1-12, Eduardo Salmeron 10-77, Marcus Sanchez 1-9, Steven Monterrey 9-65, Rudy Navarro 1-2, Ramon Hernandez 7-100, Eddie Gonzalez 2-(-2), Eric Amaro 2-(-3).
PASSING - (Grandview) Derek Swearingrn 4-17-2 101; (Sunnyside) Eduardo Salmeron 7-11-0 165, Steven Monterrey 1-1-0 0.
RECEIVING - (Grandview) Herman Herrera 1-32, Don Munoz 2-62, Joey Saenz 1-7; (Sunnyside) Steven Monterrey 3-75, Isidro Ramirez 1-18, Joseph Contreras 3-72.