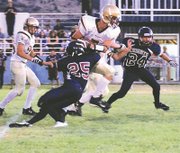 LYLE - The Sunnyside Christian High School eight-man football team kicked off the 2011 season this past Friday at Lyle against Kings Way Christian of Vancouver.
The contest, a 36-0 loss for Sunnyside Christian, was a home game for Kings Way.
The Knights kept the score close early, trailing just 6-0 after one quarter of play.
Sunnyside Christian was down 12-0 in the second stanza when it mounted its best offensive threat of the game.
The Knights moved the ball all the way down inside the Kings Way 20-yard line and threatened to cut the deficit in half before a fumble gave the pigskin back to the hosts.
"We had a lot of mental errors, some fumbles," Coach Ray Hernandez said of his team's season-opening effort.
Sunnyside Christian trailed 20-0 at the half, before Kings Way put the game away with two second half scores.
Besides battling first-game jitters, the Knights had to face Kings Way shorthanded with two of its experienced linemen ineligible due to lack of practice time.
"We were very young out there," Hernandez said of the Knights, who started six sophomores in the eight-man contest.
Though statistics were unavailable, Hernandez said there were some bright spots for his squad this past Friday night.
"We had the most team tackles that we've ever had," he said. "That was good to see them finally just flying to the ball as a team and making things happen."
The hustle on defense paid off as Knight defenders forced and recovered a pair of fumbles.
Sunnyside Christian now prepares for Lyle, during the Knights' home opener at 7 p.m. this coming Friday at Sunnyside High School's Clem Senn Field.
"We're going to get our older kids in there and that will help," Hernandez said. "We weren't quite ready for a four-man front, so we'll be working on both (facing a four-man and three-man) this week."
Offensively, Hernandez said the Knights will make some changes in an effort to get on the scoreboard.
"We're going to try and spread the ball around a little bit, try some sprint-out passes," he said.