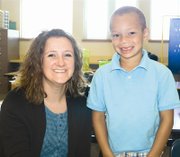 Imagine 500 people all coming to the same place for the first time to experience something that, for most of them, is completely new. Now imagine that all 500 are only 5 years old.
That's the experience more than 500 new students at Sun Valley Elementary are getting this morning as they attend their first day at the all kindergarten school. Now in its fourth year, the school has 26 classes designed to hold a total of 572 students, and if last year is any indication, those classes may be full.
Noah Hernandez, an entering student, says he's excited to be starting school. He toured the building with his mother, Bethany, and his new teacher, Tatum Howell. Hernandez isn't sure what to expect, but has attended pre-school. Based on that experience, he says, "I like to go to school."
When asked what he wants to be when he grows up, Hernandez replied "a working man." Pressed on what type of work, he decided that a cowboy or pilot would be good, but also is considering a future as a pirate.
Hernandez expects school to consist of coloring and playing games, as well as "just learning about stuff." He isn't sure what he will be learning, but he's not at all nervous.
His teacher is nervous, however. Howell, a second year teacher at the school, will be experiencing her first start to the school year. She was hired after school started last year, and is having a few first-day jitters. She, too, says she's excited, and hopes for a good year.
Hernandez didn't have any advice for his new teacher, but did promise that he would be a good student. "I'm gonna help in the classroom," he says.
Hernandez is starting with a couple of school taught skills already under his belt. He can write his own name and do basic addition. He also said he hopes to ride the bus from his home in Outlook to school.
The staff at Sun Valley is ready for the new students. Principal Janie Hernandez says, "Our teachers realize the profound impact they will have. Everybody remembers their kindergarten teacher." She knows the foundation of future achievement by the students will start with this first crucial year. "Graduation rates start here," she says.
The principal wants parents to know that they are welcome in the school. Even if they can only spare an hour or two during the day, they are invited to visit. They are also welcome to come to breakfast or lunch at the school with their child.
The first two days of school will be orientation, and parents are requested to be a part of it. Parents are also reminded to keep the school up-to-date on address changes and make sure the school knows who will be picking up their child at the school.
As for Noah Hernandez, when asked what about the school and his classroom looks like fun, he glances around in thought and says, "Um... everything."