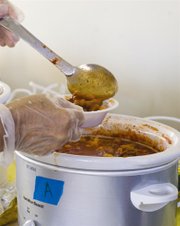 GRANGER - At this year's menudo cook-off two men and a woman took home the prizes.
"Next year you ladies need to come out and show your skills," Granger Chamber of Commerce President Gabriel Martinez said while announcing winners for the annual menudo cook-off held Sunday, Sept. 4.
"It goes to show, men can cook too," he added.
The Granger Chamber of Commerce hosted the eighth annual Washington State Menudo Festival over Labor Day weekend. Martinez announced the winners; first place, $300 and a traveling spoon went to Eddie Hernandez of Toppenish. Gracie Medina of Granger took second place honors and $200 and Stephen Maltos of Sunnyside was given the third place award of $100.
"To me the best menudo doesn't smell like tripe; it smells like the perfect blend of spices," Graciela Cardenas said.
Cardenas served as the official menudo cook at Sunday's event. Her creation was served to the general public. The menudo prepared by the nine entries hoping for the chance at first place honors were not made available to the general public attending the event. Each year the chamber names a cook for the year to provide menudo to the general public. Cardenas served her recipe at the event to more than 100 people.
"I'm getting better at it (cooking menudo) but after today I think I'm a pro," she said.
Judges Janie and Fred Cardenas, Olga Mariscol and Gracie Aldaco deliberated over each dish. The menudo was judged in five categories; appearance, aroma, taste, texture and overall impression. While the winners were being determined, the volleyball and car show were being wrapped up. Present at the event also were numerous vendors serving alternatives to the menudo. Additionally Granger's Historical Society was present to raise funds for the coming Granger history book.
"We hope to go to print by the end of the year," Helen Dodd of the historical society said.
While attendees were participating or witnessing the events this year, live music of various genres were provided for the guests' enjoyment.