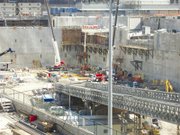 September 11, 2001; it was a day like any other day. Then people watched as arguably the most devastating event took place on U.S. soil.
The day when nearly 3,000 victims were killed by terrorist attacks will go down in U.S. history as the day that altered the American way of life.
It began in airports, where terrorists slipped past security and carried out a plan to bring terror to the American people. Then the speech from President Bush was shown in millions of homes across the nation.
"These acts of mass murder were intended to frighten our nation into chaos and retreat. But they have failed. Our country is strong," he said while trying to raise American pride in a time of terror.
Planes were grounded until further notice and the number of deaths was still untold.
Current common notions like the Patriot Act, Homeland Security, War on Terror, and taking your shoes off through airport security were once unknown to the American population. Now they are a part of everyday household conversations.
Why? Why? Why? Why?
The attacks left Americans confused and many in disbelief. Countless editorials across the nation wrote about the confusion and begged the question; why?
Shortly after the terrorist hits, news releases poured across the nation, the attacks were linked to al-Qaeda and specifically to Osama Bin Laden. The search for the terrorist leader was underway.
We say goodbye: War. Soldiers pack their bags.
The "War on Terror" began on Oct. 8, 2001, with air bombing over Afghanistan by U.S. forces and their allies. But the U.S. government planned to be in it for the long haul.
"It isn't going to be solved with a single counter-attack against one individual, it's going to be a long term conflict," U.S. Secretary of State Colin Powell said in a BBC report on the war.
Then it happened. May 1, 2011, nearly 10 years later, President Obama announced Osama bin Laden had been killed. He called the killing of bin Laden the "most significant achievement to date" in the effort to defeat al Qaeda, according to ABC News. While the efforts continue, Obama said "Justice has been done."
The way we fly: New safety laws and regulations.
In response to the attacks, the Transportation Safety Administration (TSA) was formed. While U.S. Armed Forces were scouring the world to fight terror, the security administration stayed on the home front to ensure American safety.
Their website says it best, "We are 50,000 security officers, inspectors, directors, air marshals and managers who protect the nation's transportation systems so you and your family can travel safely. We look for bombs at checkpoints in airports, we inspect rail cars, we patrol subways with our law enforcement partners, and we work to make all modes of transportation safe."
Facets of airport security, such as taking shoes off, and inspecting liquids and sharp objects are just some of the methods TSA uses to ensure a 9/11 similar event doesn't occur again.
Job Creation: From legislations passed, government departments were created. In November of 2002, President Bush signed the Homeland Security Act into law.
Out of the act the Department of Homeland Security was formed. Essentially the department works with civilian efforts to ensure safety for those within the U.S. borders. The Department of Homeland Security's 2008 Strategic Plan said, "This Department of Homeland Security's overriding and urgent mission is to lead the unified national effort to secure the country and preserve our freedoms. While the Department was created to secure our country against those who seek to disrupt the American way of life, our charter also includes preparation for and response to all hazards and disasters. The citizens of the United States must have the utmost confidence that the Department can execute both of these missions."
The department employs more than 230,000 people in positions that range from aviation and border security to emergency response, from cyber-security analysts to chemical facility inspectors. Their website says, "Our duties are wide-ranging, but our goal is clear - keeping America safe." In addition to the 230,000 employed by the Department of Homeland Security, it also distributes grants to several entities, locally and nationally. Additionally, the TSA employs nearly 50,000.
Never forget: National Preparedness Month. After the attacks, when announcing the War on Terror, President Bush said America is not immune from attack. He promised the American people that government officials would begin to take defensive measures against terrorism. The Department of Homeland Security announced again that September is National Preparedness Month. "A time to remember, a time to prepare," is this year's theme. This is the eighth annual observance of National Preparedness Month and the tenth anniversary of the terrorist attacks. The Department of Homeland Security and FEMA urge citizens to take the steps in enhancing preparedness. The steps include: getting an emergency supply kit, making a family emergency plan, get informed about the different types of emergencies and to get involved in your community's preparedness efforts.
Local, when it hits home: Remember that day, remember our troops. As the tenth anniversary of September 11 approaches, local, regional and national entities plan to remember that fateful day. Locally, an annual remembrance ceremony will be held at Harrison Middle School. The event will take place Friday, Sept. 9, at 8:30 a.m.
September 11, 2001 and for years to come reporters from all over the country documented the confusion, frustration and horror across America. The American people will forever remember the devastating event that altered the American way of life.